Dimensor S - Unique wallpaper printer
Dimense technology - The future is here
DIMENSOR S is a 3D large format printer, which has been developed to create a unique wallpaper with combined digital printing and embossing. The technology has been specially developed by the long-standing wallpaper manufacturer VEIKA.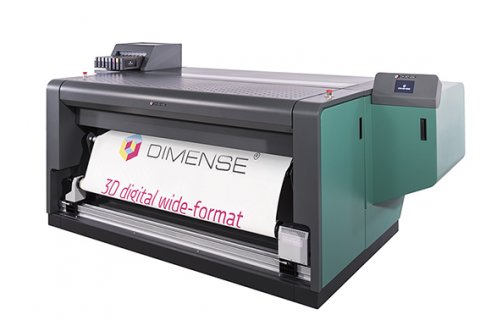 DIMENSIONTM does exactly as the name suggests - it "dimensions" digital print.
The technology makes it possible to produce unique embossments at the same time as the item is printed digitally.
Structure and print can be matched perfectly to each other or the structure can be completely different from the image itself - it all depends on the designer's creativity.
With water-based latex ink and PVC-free Ecodeco material, DIMENSE is an environmentally friendly and sustainable technology.
The environmentally friendly wallpaper medium, Ecodeco, is made of an eco-friendly polymer blend and is free of PVC and plasticizers. It contains no harmful substances, has no odor and can be recycled.
The printer is for the creative and visionary company that will offer something completely new.
It can be, for example, a sign company, a wallpaper manufacturer, an interior / indoor manufacturer.
Want to improve your production?