Droptix - Unique 3D effect
Microscopic drops of varnish - printed directly on the material - act as a magnifying glass, giving a depth effect. Depending on the design, the effect can be on the entire surface or just on a small area. A greater effect is achieved if it is printed for use on backlit signs.
The fascinating 3D effect is guaranteed to catch the eye whether it is on POS material, indoor or outdoor signage, including backlit media, vending machines or slot machines. It is also possible to make this print effect on contour cut objects, as the transparent media can be finished as desired. It can be merchandise such as cartoon characters or it can be things for direct mailing with 3D effect. We believe that they hardly end up in the trash as they are too tempting to play with, look at and pass on. The effect also has an enormous creative potential in packaging, especially promotional and specialty packaging.
Acrylic sheets size 2, 3, 6, 10 or 15 mm thick work best. The size is limited only by the size of the printer. At a Nyala it will be 3.2 x 2 meters. When printing smaller formats, it can all be made easier by using register pins. They can be placed so that you get as many registration points as you need.
The printer must, of course, have a varnish channel. It can be upgraded if you do not have this feature on your printer. The software for the effect is called KEA, and was developed by swissQprint specially to print Droptix. It makes the process of printing 3D effect easy.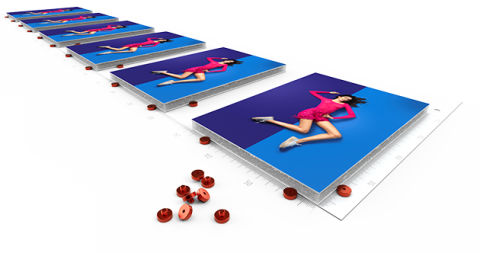 See more from swissQprint