Speed model with the same high quality
The new Impala 4S is one of the smaller models from swissQprint. Despite this, the Impala 4S does not compromise on either speed or print quality.
This flatbed printer has a maximum productivity of up to 317 square meters per hour and with a printing area of 2.5 × 2 meters, the Impala 4S can be used to make large banners, posters or material for light signs. All in all, this large format printer is the perfect choice for companies who need to produce large quantities of print on a daily basis, but who do not have unlimited space for a new large format printer.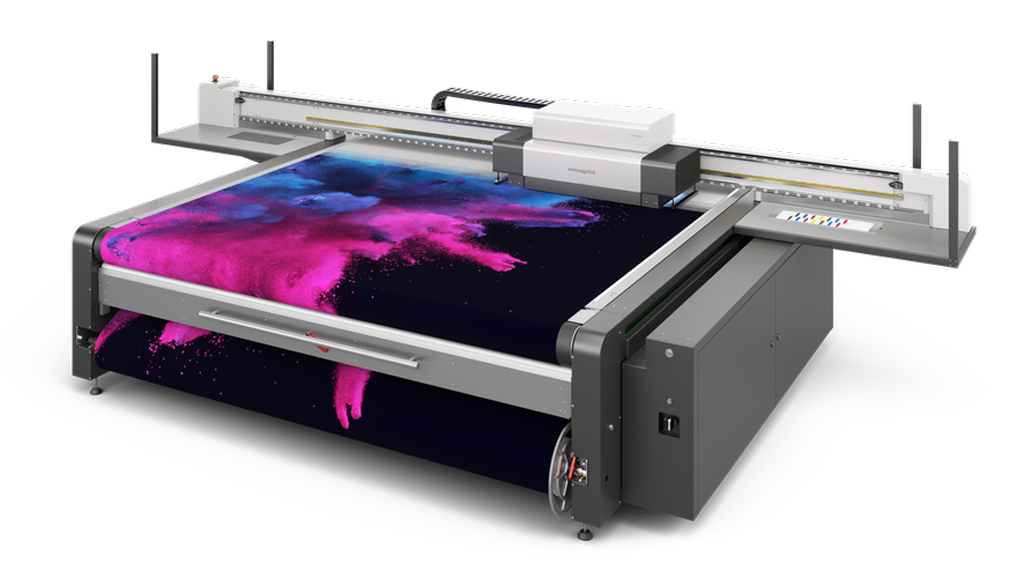 Streamline your printing process
For many years swissQprint has focused on producing the most efficient large format printers in the industry. In addition to its high speed, the Impala 4S is equipped with several other time-saving features. The printer has, for example, dual roll function, which makes it possible to print on two rolls at the same time.
Impala 4S can also be operated with tandem function, where the operator constantly puts new material on the print table, which will be printed automatically as soon as Impala 4S has finished its previous job. Of course, the vacuum function holds all types of materials in place while they are being printed.

A safe solution for both operator and material
In all their models, swissQprint has focused on optimizing the safety of both the operators and the material being printed. Impala 4S has a built-in crash sensor technology, which means that the printer stops immediately if material too thick is placed on the printing surface or if something or someone gets too close to the printer. The technology also ensures that the printer resumes printing again and continues flawlessly.
See more from swissQprint
We will help you making the right choice
Are you in doubt whether the Impala 4S is the right printer for your business? Feel free to contact us at NIZE equipment. We have many years of experience with large format printers and have since the beginning of the company specialized in supplying and servicing the various models from swissQprint. We gladly give advice and guidance throughout the process, and we look forward to welcoming you in our showroom, where you can see and test both swissQprint printers and other high-end equipment.