With their XpertJet 661UF printer, Japanese Mutoh has managed to produce a printer that, despite its modest size, can print incredibly sharply and in detail on materials up to A2 + size. This printer fits into most productions and makes it possible, among other things, to easily and quickly get started printing on merchandise. With an XpertJet 661UF you can print on everything from leather covers and pens to bricks and water bottles. The printer can be installed with two different setups: Choose between standard CMYK 4 color printing or the more advanced CMYK + White + Varnish.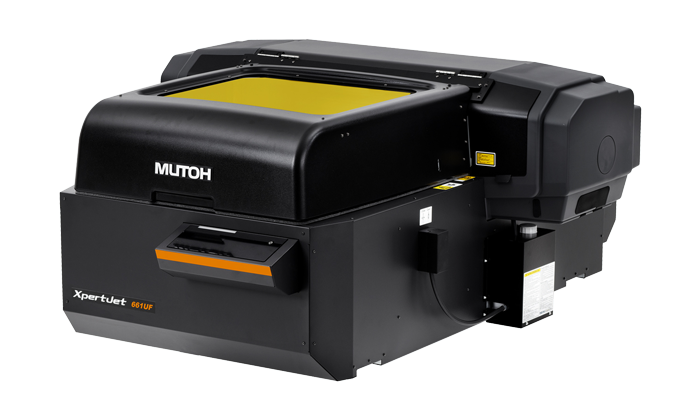 Print on white, dark and clear items / objects up to 150 mm
Dual Ink Type: Hard or Flexible Ink - 6 Colors: CMYK + Wh + Va
More options with CMYK or CMYK + White + Varnish
With a standard CMYK setup, the printer can create beautiful and sharp colors on posters as well as 3D objects. If, on the other hand, you choose CMYK with white and lacquer, the white color makes it possible to print on completely dark or transparent materials. In addition, the addition of lacquer will allow the printer to print in multiple dimensions because the lacquer is applied to the material as an extra building layer. The paint can therefore be printed in various types of tactile designs, including Braille or specific tactile surface textures on, for example, stone or cardboard. 
Fast and sustainable results with UV LED printing
The XpertJet 661UF printer is a so-called UV LED printer. That is, the printer uses special UV-curable ink, which is applied directly to the material and immediately exposed to UV LED light. 
LED lights are a long-lasting solution, as an LED lamp typically has a lifespan of up to 10,000 hours. In addition, LED bulbs rarely need time-consuming repairs, and both heating and cooling of the bulb is over in milliseconds. Thus, it is possible to save precious production time if you choose a printer with UV LED function. Compared to other printer models with classic mercury bulbs, Mutoh has added an extra sustainable dimension to the XpertJet 661UF printer when choosing UV LED light. LED lights use a relatively small amount of energy and are at the same time completely free of the environmentally harmful mercury, which is often both expensive and difficult to dispose of after the life of the bulb. 
Minimize errors with Mutoh's patented Intelligent Interweaving technique
When Mutoh is one of the leading printer manufacturers, it is largely due to the fact that the Japanese company not only copies the good ideas of other companies, but also invests a lot of time in developing new techniques for their printers themselves. Among other things, this has led to Mutoh's patented Intelligent Interweaving technology, which is also found in the XpertJet 661UF printer. This technique is similar to the previous standard technique, where the print heads only print ink on the material in straight lines. Instead, Mutho's printers apply the ink in wavy patterns without compromising print speed.
This technology means that the XpertJet 661UF reduces, and often even completely eliminates, the risk of the finished print having clear lines because the print pattern is elegantly intertwined. At the same time, a positive effect of Intelligent Interweaving is that Mutoh's printers can print the sharpest colors with minimal ink consumption. If you choose to invest in an XpertJet 661UF from Mutoh, you will get a printer that produces high-quality prints, and at the same time be free of expensive test prints and error productions. 
See other products from Mutoh
Choose the right printer for your business
If you are considering investing in an XpertJet 661UF or one of the other printers from Mutoh, you may want to contact NIZE equipment. We have many years of experience with the different types of printers and are ready to help you choose the right printer for your specific needs. At NIZE equipment, we understand that the purchase of a new large format printer is a major investment for a company.  Therefore, we would like to invite you to visit our beautiful showroom, where you can see and test the various Mutoh printers while our experienced experts will be available with information and guidance during the process.